• Two likely winners at Cheltenham ducked off course in October

• 'We've come up with a plan to move a 36-yard length of rail'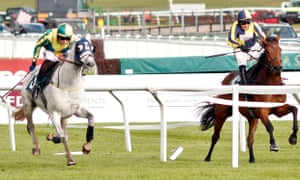 Cheltenham racecourse is to make use of a newly constructed section of rail when racing returns on Friday in an effort to prevent a repeat of the extraordinary scenes last month when two likely winners took the wrong course.
One For Billy and Oighear Dubh seemed on their way to victory at the home of jumps racing when, against the will of their jockeys, both turned left off the run-in to follow the inner rail out on to another circuit, running straight through a piece of tape intended to prevent such incidents.
Temporary measures were in place the next day to avoid a repeat but officials have come up with what they hope is a permanent solution. A single 36-yard section of rail has been designed and created by Duralock and, unusually, comes complete with the metal support pins already fixed in the base of the legs; this will be placed across the gap in the rails after runners have gone out on the final circuit, replacing the tape which proved so ineffective last month.
"The temporary arrangements worked," said Simon Claisse, the Cheltenham director of racing, "but from my point of view they were taking too long and there was still a risk a loose horse coming back around the track would cause difficulties for the people trying to install the rail.
"Now, instead of moving nine sections of rail and pins independently, we've come up with a plan to move a 36-yard length of rail in one go, with as many people as that'll need, probably eight or nine people. The pin is already in the leg, so it makes that move easier."
It all amounts to a big effort in tackling a problem that, until last month, had come up in one race over the previous 30 years. Claisse said: "It must be the right thing to do to protect the safety of the participants."
The new rail section will also be used to guide runners out into the country in hurdle races, for which tape was previously used. "It makes sense to replace the tape in all of its configurations," Claisse said.
Meanwhile at Navan, the popular hurdler Identity Thief suffered a fatal injury while running between the final two flights in the Lismullen Hurdle, won by Apple's Jade. The eight-year-old was an impressive winner of the Stayers' Hurdle at the Grand National meeting in April and will also be remembered for a battling success in the Fighting Fifth three years ago.