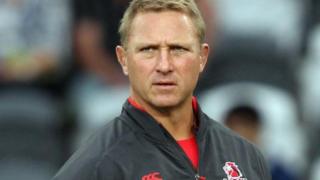 Gloucester Rugby's head coach and his son are no longer being investigated by police after an alleged altercation at a nightclub in December.
Johan Ackermann and his son Ruan were questioned following an incident in which a man suffered facial injuries at the 21 Club in Cheltenham.
Gloucester said the pair have been told they will face no further action.
Gloucestershire Police confirmed two men had been "released with no further action due to insufficient evidence".
In a statement, the force said two men, aged 47 and 22, had attended voluntary interviews on 31 January in connection with an incident at a Cheltenham nightclub in the early hours of 17 December.
A man in his twenties suffered minor facial injuries during the incident, it added.
A Gloucester spokesman said the club was "delighted with the outcome of the investigation".
"Today's news allows everyone involved to move on and to focus on an important few weeks on the pitch in the run in to the end of the season."
Johan Ackermann took over as Gloucester head coach last summer, before the start of the 2017-18 season and his son Ruan signed for the club in August.